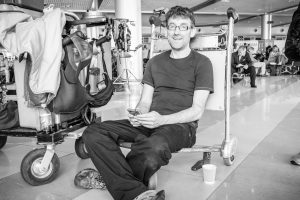 Hi, I'm Rupert Peddle, Steadicam / Camera Operator and 1st Assistant Camera. I have several year's experience working in short and feature length drama, commercial, music and fashion projects with many different camera systems. My background is a university educated engineer which is invaluable when combining the creative aspects of film making with technical equipment in a pragmatic, efficient way.
My journey in film started shooting and developing still images on black and white film with my dad, moving into digital stills and making short sports videos before joining the industry and becoming a full time professional. Since then I have built up experience working on many productions and budget levels. There is always something new to learn, skills to practice and amazing creative people to work with, and I relish this aspect of the industry.
I am an associate member of the ACO, a member of the BAFTA Crew programme and have undertaken training with the GBCT and Tiffen Steadicam. On set, I'm known for being very personable, hard working and able to get well with others while keeping a level head and a sense of humour under pressure.